More than 80% of the global oil and gas production today is coming from fields that have been developed before 1997.
That means that most of the global oil and gas production today is coming from assets that have been developed before the first global agreement to reduce greenhouse gases, the Kyoto Protocol, was adopted.
So it should not be a surprised that with 15% of global energy-related GHG emissions coming today from the process of getting oil and gas out of the ground there is still a lot that the industry could do to reduce the environmental footprint of its own fields operations (IEA, 2020).
This is even more important and urgent because:
With the size of the discoveries becoming smaller (Rystad, 2020) and the trend in investment in exploration and development of new fields going down (IEA,2021), these mature fields will be the backbone of the global oil and gas production in the Energy transition era.
As fields mature and their surface facilities get older, emissions intensity increase. Not only on one side production decline but also on the other side more energy is needed to maintain production. For example, water-handling requirements may increase due to an increase in water cut(Thoms, WoodMackenzie, 2017)
While International and National Oil and Gas companies allocate their financial and human resources to the projects with the highest probability of maximizing financial return such their top 20% producing fields in their portfolio, new greenfield developments, and exploration opportunities, the Production Enhancement Contract (PEC) is the latest partnership framework to maximise the resources for their second tier fields on their portfolio.
As describe in the example below a PEC can be very successful to swiftly deploy on the ground new processes, technologies and expertise toward improving the environmental footprint of these mature oil and gas fields to make them sustainable for longer time while also increasing reserves and reducing operating costs.
In 2012 – a PEC contract is signed between OMV Petrom and Expert Petroleum
In 2012, after a thorough pre-qualification and procurement process OMV Petrom and Expert Petroleum signed a 15 years Production Enhancement Contract to enhance the production, ultimate recovery and environmental footprint of a cluster of 13 onshore, ring fenced, Oil and Gas fields initially developed 45 years ago.
Within the PEC framework, the service provider takes over the field operations and focus on applying efficient and effective operating practises to make the fields safer, greener and more productive for longer time. Furthermore, the service provider commits to invest a minimum work program to redevelop the fields with the latest fit for purpose technologies and production enhancement techniques.
The work programs and budget are approved by a Joint Management Committee ('JMC') between the title holder and the service provider. The title holder keeps full control and ownership of the production and reserves.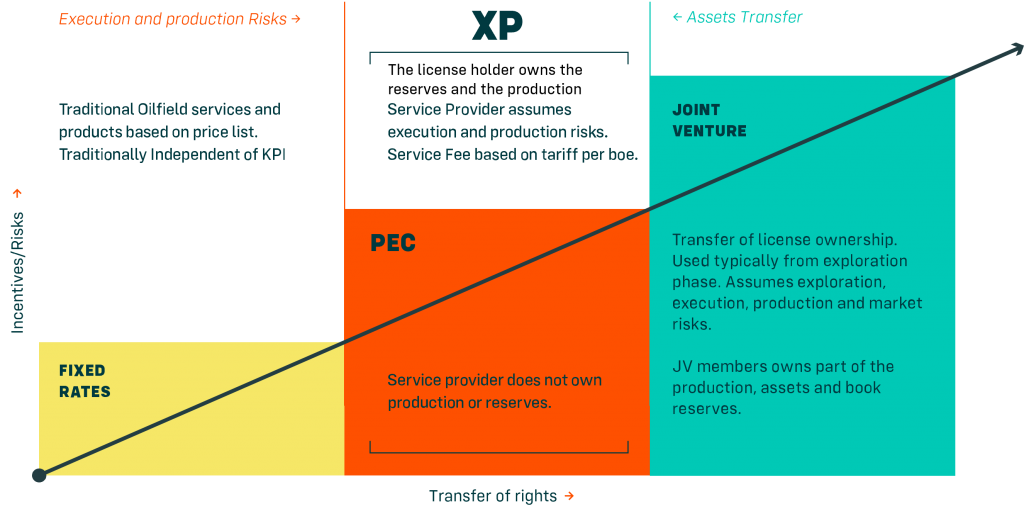 As the consideration for its works the service provider receives a monthly service fee based on the results obtained as such:
A baseline fee/boe (usually equivalent to initial opex/bbls at take over)
An incremental fee /boe (> to the baseline fee/bbls)
Non-Tariff Chargeable Expenditures (NTCE) for other services requested to the service provider that do not increase production (abandonment, assets put in conformity…)

Let's look in more details at the methods and process used on one of the fields included in this PEC to demonstrate the benefits of this framework.
After a full assessment and analysis by Expert Petroleum of:
The production history,
The adequacy of the surface facilities and production process vs the forecasted production requirement.
The subsurface data (seismic, logs, core, drilling reports.) , and
The existing environmental footprint of the operations, mainly Energy consumption, Greenhous Gas (GHG) emissions and Freshwater use.
a new integrated reservoir model was built and technical options to reduce the environmental footprint were analysed.
Based on the above we proposed in particular to invest and change completely the existing artificial lift system and restructure and modernize the production facilities.
The existing artificial lift system was an old gas lift system made of large and numerous electrical compressors, extensive surface pipelines and spread process facilities with significant risk for fugitive emissions and very high consumption of energy (electricity mainly) and freshwater.
We shut it down completely and dismantled and instead installed modern electrical submersible pumping systems on well by well basis combined with a central modern power generation system to make use of the associated gas, which is burn within piston engines, in order to obtain electrical power (as there is no available nearby gas pipeline for transmission and distribution for the associated gas of the field).
As a result:
The surface facilities footprint was reduced by 46%. With all the advantages that comes with it in term of increase operator safety and energy efficiencies and reduction of spills risk.
Yearly Green House Gas emissions from the operations were reduced by 81%. This represents a reduction of GHG emission of around 31,000 tCO2e per year of operation.
The Field Energy intensity was decreased by 61% mainly due to the electricity savings achieved by removing the electrical gas compressors and generating our own electricity with the power generation technology.
Freshwater withdrawal decreased by 77% as we did not need any more the water cooling towers that were needed previously to cool off the compressed gas and water that was needed to cool off the compressors.
Furthermore, all of these environmental gains did not come at the expense of the production enhancement and economics return, at the opposite thanks to this new field redevelopment plan oil and gas reserves increased by 57% and Opex was reduced by 40% (at equivalent production level).
Conclusion
The PEC is an innovative partnership format that allowed to swiftly deploy new processes, technologies, financial resources and expertise toward improving the environmental footprint on mature oil and gas field to make them sustainable for longer time while also increasing reserves and reducing operating costs.
Reference:
IEA (2020), The Oil and Gas Industry in Energy Transitions, IEA, Paris https://www.iea.org/reports/the-oil-and-gas-industry-in-energy-transitions

Rystad (2021) ECUBE

Thoms D., Reynolds C. , WoodMackenzie (2017) "Carbon emissions and asset maturity: the ageing process"